Client: Private Client
Project: Crescent Road – Stafford
Crescent Road, was a private New Build development.
We worked direct with the client for this project.
Our objective was to provide traditional sliding sash windows with modern technology.
We supplied and fitted custom made Aluminium/Timber sliding sash windows, which were white aluminium outside and factory sprayed white inside with micro-porous breathable paint.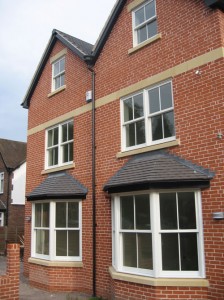 The windows were supplied with Soft-coat Low E and Argon filled glazing and fitted with modern Satin Chrome ironmongery.
We were also commissioned to manufacture and install the Main Staircase throughout the three storey property. This was designed with a simple but contemporary design, including painted strings and hardwood polished handrails. Additional safety features were also incorporated into the design to accommodate for our clients young family.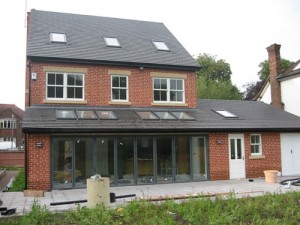 To complete the project we also manufactured and supplied the Main Entrance door and combination screen.
All products were custom made, supplied and installed by ourselves.